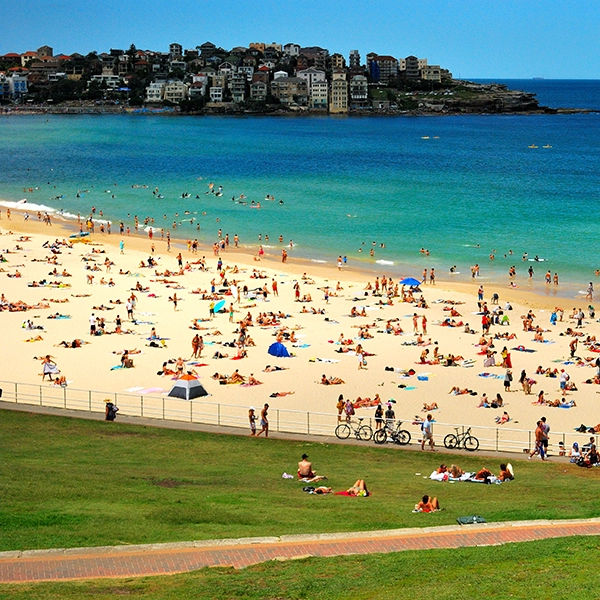 A Brief Introduction to Bondi Beach
Bondi Beach is an iconic Australian destination that is internationally recognized and visited by millions of people each year. Located just 7 kilometers east of Sydney's central business district, Bondi Beach is famous for its pristine golden sands, turquoise waters, and vibrant atmosphere. The beach is not just a popular getaway for tourists but also a cultural hub and an integral part of the Australian lifestyle.
The History of Bondi Beach
Bondi Beach has a fascinating history that has contributed greatly to its allure as one of the most famous beaches in the world. Originally inhabited by the local Aboriginal people known as the Gadigal tribe, the name "Bondi" is believed to have been derived from an Aboriginal word meaning "water breaking over rocks" or "noise of water breaking over rocks". The European settlers arrived in the area in the 1800s, and it didn't take long for them to realize the potential of the beautiful beach. The first surf lifesaving clubs were formed in the early 1900s, which not only played a crucial role in maintaining the safety of beach-goers but also helped popularize the sport of surfing in Australia.
Surfing Culture at Bondi Beach
Surfing has always been an essential part of Bondi Beach's identity. With consistent swells and suitable breaks catering to beginner, intermediate, and advanced surfers, Bondi Beach remains a surfing hotspot. The beach is home to the oldest surf lifesaving club in the world – Bondi Surf Bather's Life Saving Club – founded in 1906. The club has played a significant role in pioneering and promoting surfing culture not just in Bondi, but all around Australia. Today, the beach hosts numerous surf competitions and events throughout the year, attracting surfers from across the globe. Bondi Beach is also the perfect place to learn to surf, with numerous surfing schools and instructors offering lessons for all skill levels.
Bondi Beach's Vibrant Atmosphere
There is no denying that Bondi Beach is always buzzing with activity. The 1-kilometer stretch of sand is often filled with sunbathers, swimmers, and surfers enjoying the warm weather and clear waters. However, Bondi Beach is not just about its coastline. The surrounding area is a melting pot of cultures, boasting an eclectic mix of trendy cafes, world-class restaurants, and vibrant nightlife. These diverse establishments cater to the myriad of tastes and preferences of both locals and tourists alike.
Annual Events at Bondi Beach
Throughout the year, Bondi Beach hosts an array of events that celebrate art, sports, and culture, drawing people from all walks of life. Some of the most popular annual events include:
Flickerfest – Australia's premier international short film festival held every January
Bowl-A-Rama – one of the world's largest professional skateboarding competitions, taking place in February
Sculpture by the Sea – a unique outdoor exhibition showcasing awe-inspiring sculptures along the Bondi to Coogee coastal walk, held in October–November
City to Surf – a famous 14-kilometer fun run that starts in Sydney CBD and finishes at Bondi Beach, attracting over 80,000 participants every August
These events not only provide entertainment for millions of visitors but also showcase the spirit of community and creativity that resides within Bondi Beach.
The Bondi to Coogee Coastal Walk
The 6-kilometer Bondi to Coogee Coastal Walk is a must-do for anyone visiting Bondi Beach. This picturesque clifftop track offers stunning views of the coastline and reveals hidden gems such as Tamarama, Bronte, Clovelly, and Coogee beaches along the way. The walk features a mix of boardwalks, parks, and rocky cliffs, with several vantage points, cafes, and picnic areas that make it a perfect activity for a leisurely stroll or an invigorating hike. During the annual Sculpture by the Sea exhibition, the walk is transformed into a unique open-air gallery showcasing the works of talented local and international artists.
Environmental and Sustainable Initiatives
With millions of tourists visiting annually, environmental sustainability is a top priority for Bondi Beach. Several initiatives are in place to conserve the beach's natural beauty and protect its delicate marine ecosystems. These efforts include regular beach cleanups, plastic-free campaigns, and the implementation of measures to preserve the nearby coastal vegetation. Additionally, Bondi Beach is a designated "Surfing Reserve", which helps ensure the long-term protection and heritage of Australia's iconic surf breaks.
Visiting Bondi Beach: Tips and Recommendations
If you're planning a trip to Bondi Beach, here are some tips to help you make the most of your visit:
To avoid the crowds, visit in the early morning or late afternoon, as the beach can become quite busy during peak hours
Always swim between the red and yellow flags, as these areas are patrolled by surf lifesavers
Wear sunscreen, a hat, and sunglasses to protect yourself from the strong Australian sun
Explore the local cafes and restaurants – there is a diverse range of gastronomic offerings to satisfy any palate
Allow time for the Bondi to Coogee Coastal Walk and immerse yourself in the breathtaking views of the coastline
In conclusion, Bondi Beach is a unique and diverse destination that offers visitors an array of activities and experiences. From its surfing culture and vibrant atmosphere to its commitment to sustainability and artistic events, Bondi Beach truly is a must-visit Australian icon.