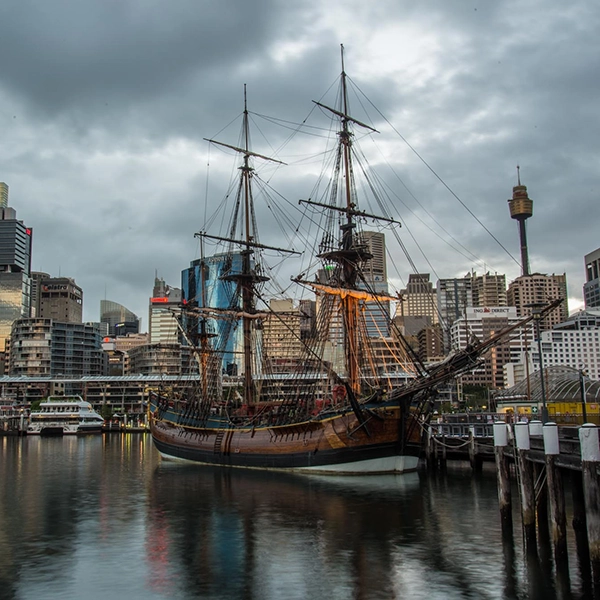 An Introduction to Darling Harbour
Darling Harbour, a bustling waterfront destination in Sydney, Australia, is a captivating hub of entertainment, dining, and shopping. Located adjacent to the central business district, this iconic area has transformed from a centuries-old commercial port to a vibrant cultural and leisure precinct, inviting millions of tourists and locals every year.
The precinct covers 840 acres of land and water, making it the largest in the world. Originally named Long Cove, it was later renamed as Darling Harbour after Ralph Darling, the seventh Governor of New South Wales. The area has an intriguing history, extraordinary architecture, and an endless array of activities for visitors, making it a must-see destination when visiting Sydney.
History of Darling Harbour
Darling Harbour's history dates back to the late 18th century when the first fleet arrived in Sydney Harbour. During the early colonial period, the area was mainly utilized for farming and grazing. As Sydney grew, so did the need for a commercial port to support the increasing shipping demands. In the 19th century, the colonial government developed Darling Harbour as Sydney's prime shipping port.
Throughout the 20th century, the area underwent several transformations. During the Great Depression, Darling Harbour suffered from a decline in maritime activities; however, it regained its importance during World War II as a crucial hub for naval operations. In the last decades of the 20th century, the shipping industry moved to larger ports, causing Darling Harbour to lose its commercial significance.
In the mid-1980s, the New South Wales government decided to redevelop the area into a major cultural and entertainment hub. The transformation commenced in 1984, and by the end of the decade, Darling Harbour had become a vibrant destination for leisure, events, and conventions. Its success played a prominent role in revitalizing Sydney's reputation as a world-class city.
Attractions at Darling Harbour
Visitors are presented with an extensive selection of opportunities for entertainment, exploration, and relaxation when visiting Darling Harbour. With various attractions catering to travelers of all ages and interests, there is no shortage of entertainment options. Some of the most popular attractions at Darling Harbour include:
1. Chinese Garden of Friendship
A tranquil escape from the bustling city, the Chinese Garden of Friendship provides visitors with a piece of traditional Chinese culture in Sydney. The garden's exquisite design features waterfalls, lakes, pavilions, and exotic plants, making it the perfect setting for a leisurely stroll or a peaceful moment of reflection.
2. Australian National Maritime Museum
As Australia's premier maritime museum, this institution is dedicated to showcasing the nation's rich naval history through its captivating exhibits, interactive displays, and immersive programs. Visitors can explore various galleries, climb aboard historic ships, and examine the fascinating Endeavour replica.
3. SEA LIFE Sydney Aquarium
One of the largest and most impressive aquariums in the world, SEA LIFE Sydney Aquarium is home to over 700 different marine species. Visitors can get up close and personal with sharks, rays, dugongs, penguins, and countless other sea creatures as they wander through the facility's numerous exhibits and underwater tunnels.
4. Madame Tussauds Sydney
Step into the world of the famous and the infamous at Madame Tussauds Sydney. The popular wax museum features incredibly lifelike sculptures of celebrities, politicians, historical figures, and movie characters, providing countless photo opportunities for visitors as they mingle with the stars.
Events and Exhibitions
Beyond its permanent attractions, Darling Harbour is also known for hosting various annual events and temporary exhibitions. The precinct boasts a range of exhilarating festivities, including cultural celebrations like Australia Day, Chinese New Year, and the Sydney Festival, as well as major sporting events, such as the Invictus Games and the wheelchair rugby league.
One of the most anticipated events held at Darling Harbour is the Sydney International Boat Show, which showcases some of the most luxurious and advanced watercraft in the world. Other exciting events include various food and wine festivals, live music concerts, and fascinating art displays.
A Foodie's Paradise
With numerous world-class dining options, Darling Harbour is an ideal destination for a culinary adventure. The precinct is home to a vast selection of eateries, ensuring that visitors can find something to satisfy their palate, whether they're in the mood for fine dining, casual bites, or even a delicious coffee and dessert.
Delight in a sumptuous meal at one of the many waterfront restaurants offering stunning harbor views or explore the multitudes of international cuisines available, including Japanese, Italian, Indian, and more. Do not miss the chance to sample some of Sydney's famous seafood at one of its waterfront restaurants or indulge in freshly shucked oysters at an oyster bar.
Shopping and Nightlife
Shopping enthusiasts will find a diverse array of retail offerings at Darling Harbour, from exclusive luxury brands to charming local boutiques. The shopping centers, Harbourside Shopping Centre and The Streets of Barangaroo, offer a wide selection of retail outlets catering to all budgets, tastes, and styles.
Darling Harbour's vibrant nightlife is another highlight, with multiple bars, lounges, and clubs providing entertainment well into the night. Sip on a signature cocktail at one of the many stylish bars, catch a live performance at a chic lounge, or dance the night away at a lively nightclub.
Conclusion
With its illustrious history, world-class attractions, diverse events, and enticing culinary scene, Darling Harbour is a must-visit destination for travelers exploring Sydney. Offering something for everyone, the precinct is an endless source of entertainment and a stunning showcase of the city's charm and allure. As you plan your next adventure to Sydney, be sure to make time to discover the enchanting world of Darling Harbour.