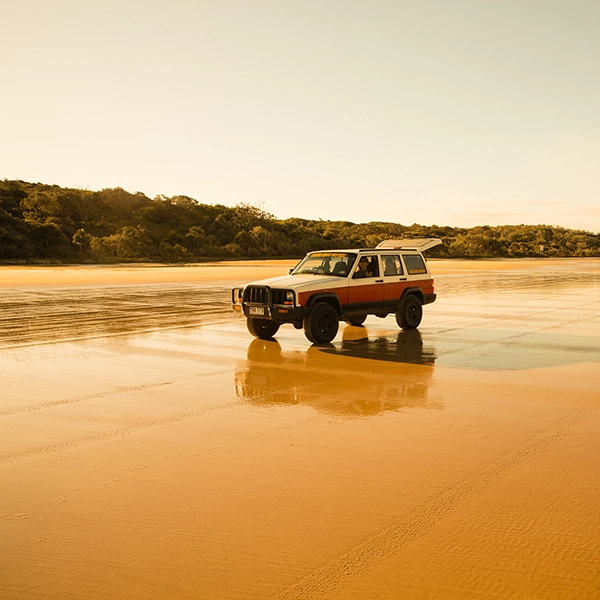 Introduction to Fraser Island
Fraser Island, the largest sand island in the world, is a UNESCO World Heritage site located in Queensland, Australia. It stretches over 120 kilometers in length and covers an area of 184,000 hectares, making it one of Australia's most remarkable natural treasures. Fraser Island is home to a diverse range of flora and fauna, incredibly beautiful landscapes, and offers visitors an array of recreational activities. This article takes you on a journey through this pristine island paradise, showcasing its natural beauty, unique ecosystems, rich cultural heritage, and exciting adventure experiences.
The Natural Wonders of Fraser Island
Fraser Island is known for its diverse ecosystems, boasting rainforests, eucalyptus woodlands, mangrove forests, and freshwater lakes. The island's unique landscape is shaped by wind and water, forming vast sand dunes and intricate patterns on its shores. One of its most striking features is the colored sand cliffs known as the Pinnacles, with layers of different shades of red and yellow, creating an extraordinary natural artwork.
Over 40 crystal clear freshwater lakes are scattered throughout the island, including the famous Lake McKenzie, which has bright white sand and vivid turquoise water. Interestingly, Fraser Island is home to half of the world's perched lakes, where the water collects in a depression atop a sand dune and is sustained by rainwater alone. These lakes provide serene and tranquil settings for swimming, picnicking, and relaxation.
Fraser Island's Thriving Wildlife
The island is home to various plant and animal species that make it a vibrant and thriving ecosystem. In the island's rainforests, you'll find trees that are over 1,000 years old, along with several species of eucalyptus, ferns, and palm trees. These forests provide a haven for many bird species like kingfishers, kookaburras, and white-breasted sea eagles.
Fraser Island also hosts a large number of mammals, reptiles, and amphibians, including the famous Australian marsupial, the sugar glider, and the eastern blue tongue lizard. However, the most iconic species on this island is the purebred dingo, which is Australia's wild dog. These purebred dingoes have been isolated from their mainland relatives, maintaining their pure gene pool. Although these animals may look like friendly domesticated dogs, they are wild predators and should be treated with caution and respect.
Explore the Rich Cultural Heritage
Fraser Island has a long human history dating back thousands of years. The indigenous Butchulla people first inhabited the island, calling it K'gari, which means "paradise." They lived off the land, relying on the rich natural resources available to them, including plants, animals, and fish. The Butchulla people developed a strong spiritual connection with the island, which is still evident today.
In the 1800s, the island became a center for logging activities, as the large kauri pines and eucalyptus trees were highly sought after for their quality timber. Shipwrecks from this era can still be found along the island's coastline, with some of the most notable wrecks being the SS Maheno and the Cherry Venture. These wrecks are significant historical landmarks that serve as a reminder of the island's past.
Now, the island is managed and protected as part of the Great Sandy National Park, ensuring that future generations can continue to enjoy its natural beauty and cultural significance.
Adventure Awaits: Discover Remarkable Fraser Island
Fraser Island offers a wide range of recreational activities, catering to all types of visitors. With over 100 kilometers of sandy beaches to explore, the island is perfect for those seeking a relaxing beachside holiday. Those who crave adventure can off-road across the island in a 4WD, traversing the sandy tracks through dense forests and climbing the towering sand dunes.
Water enthusiasts can embark on a guided kayak tour, following the shoreline of the island while learning about its fascinating ecosystems, marine life, and history. For a more adrenaline-fueled aquatic experience, jet skiing and windsurfing are popular choices at various locations across the island.
Fishing is a popular pastime on Fraser Island, with the eastern beach known as one of the best beach fishing spots in Australia. Anglers can try their luck at catching tailor, bream, whiting, and flathead, while offshore fishing charters can be organized for those looking to catch larger species like snapper, tuna, and marlin.
Several walking trails throughout the island cater to hikers of all abilities, from short walks to multi-day treks. The Fraser Island Great Walk is a 90-kilometer trail that takes hikers through striking landscapes, including lush rainforests, sand dunes, and pristine beaches, as well as past some of the island's most notable landmarks and sites of historical significance.
Where to Stay on Fraser Island
Accommodation options on Fraser Island range from camping on the beach to luxury eco-resorts, catering to different budgets and travel preferences. Campsites are numerous, with both beachside and inland locations, providing a truly immersive experience of the island's natural environment. For those seeking comfort and convenience, holiday homes, hotels, and eco-resorts offer a range of amenities and services, including dining options, pools, and guided tours.
Conclusion
Fraser Island truly is a breathtaking paradise like no other, offering a diverse range of experiences, from relaxing beachside vacations to thrilling nature-orientated adventures. Its unique ecosystem, rich cultural heritage, and countless recreational opportunities make it the perfect destination for all types of travelers, leaving a lasting impression on all who visit this magnificent island.