Hall's Harbour: Home Of The Lobster Pound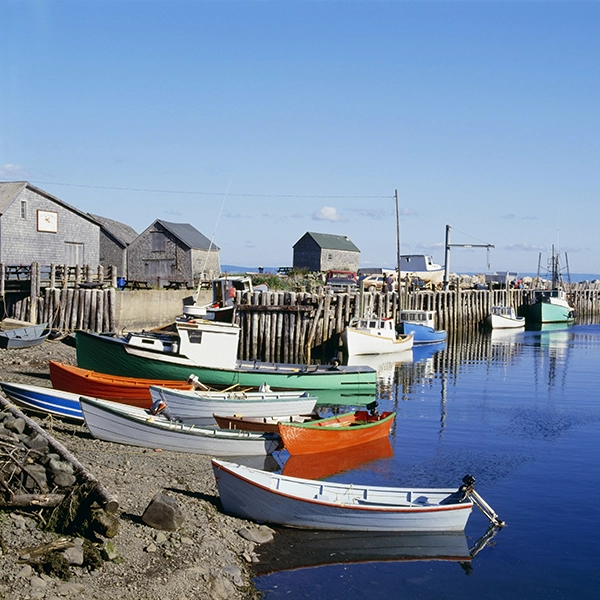 Introduction to Hall's Harbour
Hall's Harbour, a small picturesque fishing village nestled on the Bay of Fundy's coast in Nova Scotia, Canada, is a place where time appears to stand still. The village's unique charm and natural beauty draw visitors from far and wide, making it a popular destination for those looking to escape the hustle and bustle of urban life. This article will shed light on the history, attractions, and fascinating phenomena that make Hall's Harbour one-of-a-kind.
History of Hall's Harbour
Named after its founder Samuel Hall, an American privateer who sought refuge in the area during the War of 1812, Hall's Harbour began as a safe haven for pirates and privateers who attacked British ships. Over time, however, the outlaws moved on, and the village transitioned from a den of thieves to a bustling hub for forestry, agriculture, and, most importantly, the fishing industry.
As the latter flourished, Hall's Harbour rapidly gained recognition as the lobster capital of Nova Scotia, owing primarily to its deep port, making it ideal for launching and landing boats throughout the year. The village's exemplary maritime history has been carried forward by a community that respects and preserves their heritage, evoking a sense of pride among residents and providing a fascinating aspect for visitors to learn about and enjoy.
The World's Highest Tides
Hall's Harbour is not only renowned for its lobster industry but also its incredible tidal fluctuations. It sits on the Bay of Fundy, known for having the highest tides in the world. Over 160 billion tonnes of water flow in and out of the bay daily, leading to tidal differences of up to 16 meters (52.5 feet) between high and low tide. These natural wonders provide visitors with an extraordinary spectacle as the harbor transforms from a dry seabed to a deep-water haven throughout the day.
In addition to witnessing the dramatic tidal changes, one can also explore tide pools filled with marine life, experience tidal bore rafting, walk along miles of sand flats, or hike along coastal cliffs for breathtaking views.
Experience Authentic Lobster Dinners
Visiting Hall's Harbour would not be complete without indulging in a feast at one of their many seafood restaurants. Known as the lobster capital of the province, the village prides itself on serving the freshest and most succulent lobster caught straight from the frigid waters of the Bay of Fundy.
Many restaurants in the area offer a unique experience by allowing visitors to select their lobster from live tanks before it is prepared, ensuring the best possible dining experience. These seafood dinners are a fantastic way to enjoy the bounty of the sea and appreciate the hard work and dedication put into the lobster industry, both past and present.
Explore the Area's Hiking Trails
For those who prefer land-based activities or just want to stretch their legs, Hall's Harbour offers several well-maintained hiking trails. Ranging in difficulty from leisurely to moderately challenging, these trails allow visitors to experience the stunning flora and fauna that define Nova Scotia's landscape.
Throughout these trails, one can hope to encounter a variety of species, including coastal birds, seals, and even the occasional deer. While traversing the paths, visitors will also come across an abundance of wildflowers and lush greenery, making for a truly captivating experience.
Local Art and Culture Scene
Hall's Harbour is also known for its thriving art and culture scene. Home to a diverse group of artisans and craftspeople, the village boasts various galleries, studios, and shops showcasing local artists' talent. Whether you're admiring a painter's serene depictions of the seaside, perusing pottery made from Fundy clay, or trying your hand at rug-hooking, the art of the region offers unique perspectives and experiences.
Local festivals like the Hall's Harbour Canada Day & Lobster Festival and other community events celebrate the region's rich cultural heritage and provide visitors with ample opportunities to immerse themselves in the local lifestyle.
Comfortable Accommodations
Whether you're a day-tripper or planning to stay a little longer in Hall's Harbour, the village provides a variety of accommodations to suit your needs. From cozy bed and breakfasts and historic inns to charming cottages, Hall's Harbour offers visitors a restful stay in comfortable surroundings. These lodgings embody the quiet, laid-back ambiance that is synonymous with maritime living, encouraging relaxation and restorative experiences.
Unforgettable Memories
Despite its small size, Hall's Harbour offers memorable experiences for visitors seeking an authentic, tranquil maritime village retreat. The natural beauty, rich history, and thriving fishing and art community here are unmatched. With something for everyone to enjoy, Hall's Harbour promises a unique and unforgettable getaway that will leave a lasting impression in any visitor's heart.