Old Town Lunenburg: A UNESCO World Heritage Site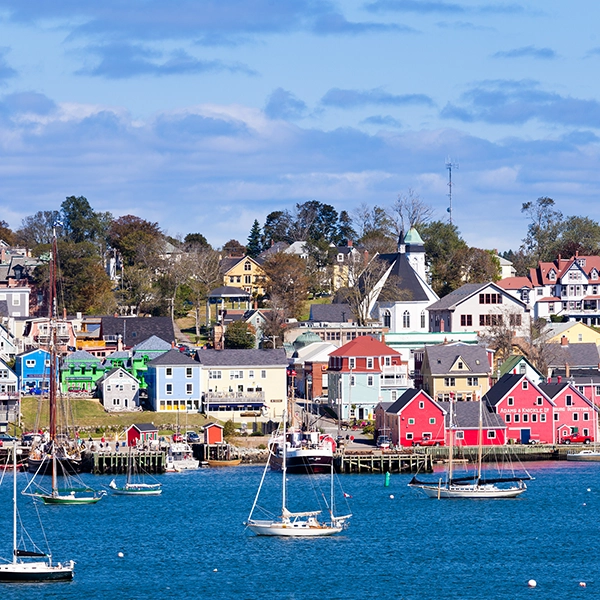 Introduction to Lunenburg
The town of Lunenburg, located in Nova Scotia, Canada, is a UNESCO World Heritage Site known for its rich history, stunning architecture, and vibrant cultural scene. Lunenburg is a small, picturesque coastal settlement founded in 1753 by mostly German, Swiss, and French immigrants. The town is characterized by its brightly-colored wooden buildings and steep, narrow streets that climb a hill overlooking the water's edge. Lunenburg is also home to Fisheries Museum of the Atlantic, which pays tribute to the town's longstanding fishing industry. With timeless charm and modern-day conveniences, Lunenburg is a unique and alluring place to visit or live in.
History of Lunenburg
Lunenburg was initially settled in 1753 by the British, who hoped to establish a strong Protestant presence in the region as a counterbalance to the predominantly Catholic districts of Acadia and Cape Breton. The town was named in honor of the British king, George II's, Duke of Braunschweig-Lüneburg. For the following century, the primary industries in Lunenburg were farming, woodworking, shipbuilding, and fishing. Many of the original colonists' descendants still live and work in the area today, preserving the town's rich cultural heritage and traditions. Prominent throughout Lunenburg's history is its involvement in the fishing industry. In the late 19th and early 20th centuries, the fishing industry was a crucial part of the local economy, and Lunenburg quickly gained prominence as a major fishing port in the North Atlantic. Many famous schooners, including the Bluenose, were built in the town and its shipyards. The harbor continues to host a large fishing fleet today, although the industry has experienced significant changes in recent years due to advancements in technology, fishing regulations, and global competition.
Architecture and Cultural Heritage
One of the most striking aspects of Lunenburg is its distinct architectural style and colorful buildings. Most of the structures found in the Old Town district date back to the 18th and 19th centuries, featuring ornate details and unique features like the "Lunenburg Bump," a five-sided dormer window that serves both aesthetic and functional purposes. Many of these older buildings have been meticulously preserved and restored, earning Lunenburg its UNESCO World Heritage Site designation in 1995. The color palette found throughout Lunenburg is another noteworthy element of the town's appearance. A vibrant hodgepodge of blues, yellows, reds, and greens adorn the buildings, giving the town a unique, whimsical energy. This kaleidoscopic effect is the result of the original settlers using leftover ships' paint to protect their homes, a practice that has been continued to this day. Lunenburg's cultural heritage is celebrated throughout the year with various events and festivals. The town is home to several galleries and artisan shops that showcase local talents, along with a thriving culinary scene that highlights the region's fresh seafood and ingredients. The Folk Harbour Festival, an annual music event, showcases local and international folk musicians, while the Lunenburg Doc Fest highlights documentary filmmakers and stories from around the world.
Attractions in Lunenburg
When visiting Lunenburg, there are several attractions that tourists should consider experiencing. Among them are:
Fisheries Museum of the Atlantic: This waterfront museum showcases the history of Lunenburg's maritime heritage, from shipbuilding and fishing to exploration and piracy. Highlights include the indoor aquarium, where visitors can get up close and personal with marine life, and two retired fishing vessels that can be explored in full detail.
Bluenose II: A replica of the famous racing schooner Bluenose, the Bluenose II is a floating museum and an active sailing ship. Visitors can take guided tours to learn about the original schooner's history, or even sign up for a day sail to experience life on the seas.
Ironworks Distillery: Occupying a 19th-century blacksmith's shop, the Ironworks Distillery produces handcrafted spirits, liqueurs, and fruit brandies. Visitors can enjoy tastings and purchase their favorite libations to take home as souvenirs.
St. John's Anglican Church: Built in 1754, St. John's Anglican Church is one of the oldest Protestant churches in Canada. The church's history reflects the various stages of Lunenburg's development, and its beautiful interior showcases intricate wood carvings and impressive stained-glass windows.
Lunenburg Walking Tours: To really take in Lunenburg's charm, consider joining a guided walking tour led by local historians. Tours cover the key sites and stories of the town, offering visitors a deeper understanding of its unique heritage and craftsmanship.
Outdoor Activities and Exploring the Region
While the town of Lunenburg itself has a lot to offer, the surrounding areas also provide no shortage of opportunities for outdoor recreation and exploration. For lovers of natural beauty, the nearby Battery Provincial Park offers rugged coastal landscapes, scenic trails, and camping opportunities. Kejimkujik National Park and National Historic Site, located about two hours away from Lunenburg, has both inland forests and coastal wetlands for a diverse range of exploration and wildlife sighting opportunities. With its charming streets, rich history, and picturesque coastal setting, Lunenburg is an enchanting destination for visitors seeking a unique and authentic Maritime experience. Visitors will undoubtedly be charmed by the town's vibrant culture and admire its residents' commitment to preserving their heritage for future generations to appreciate.